China Wind Turbine Blade Transport Trailer Videos
| | | |
| --- | --- | --- |
| | | |
| Modular trailer with rotor blade adapter | Windmill blade transport trailer | Wind turbine blade transport trailer |
| | | |
| | | |
| 64m single beam extendable trailer | 4 axle 60m blade transportation trailer | 56 meters telescopic trailer testing |
1. What is windmill blade transport trailer?
Wind Turbine Blade Transport Trailer for transport rotor blade, wind blades. That is best solution to avoid obstacles, such as buildings and trees effectively, especially running on steep hills or narrow winding mountainous roads.
Hauling wind turbine blades mainly includes wind blades, nacelles, hubs and towers, and each component is an over-limit item for ordinary road transportation, which requires professional wind turbine blade transport trailer for transportation and assemble a wind turbine. So wind turbine transportation companies need a windmill blade trailer for sale.
For wind blades, the length is extremely long, which becomes the main feature that distinguishes it from other equipments. Considering the particularity of wind turbine blade trailer length, the currently constructed mountain wind farm transport generally use wind turbine blade transportation combined with high-power tractors to complete the transportation of wind turbine blades.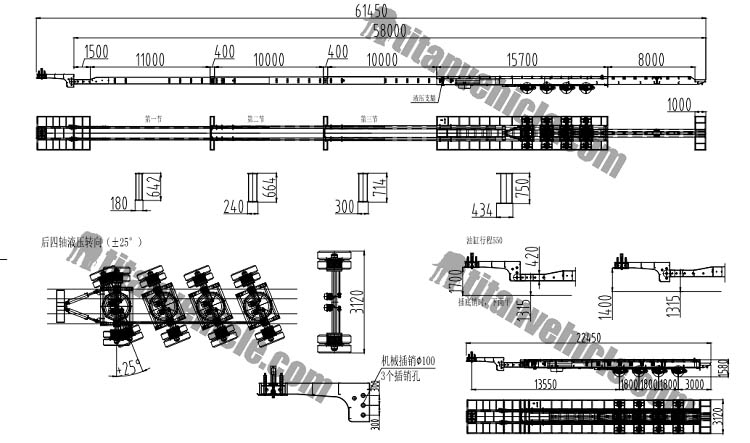 4 axle 58m telescopic extendable trailer for sale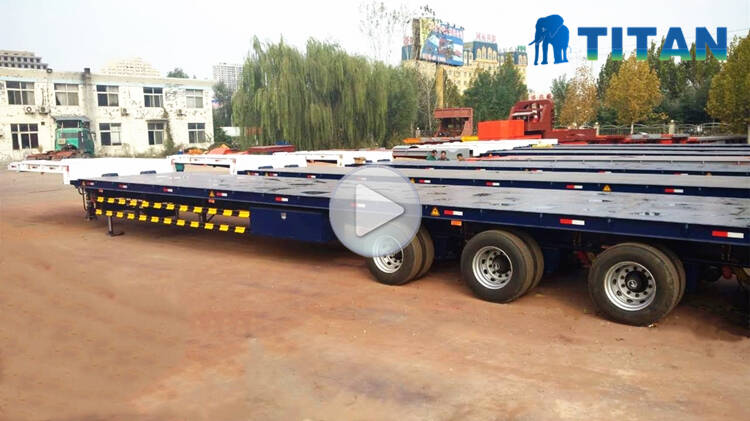 4 Axle 60m wind blade transportation Trailer Introduction Video
Hydraulic lift 4 axle telescopic trailer hydraulic steering large wind turbine tower transport, 58 meters, transport blades within 80 meters on land (long-distance transport).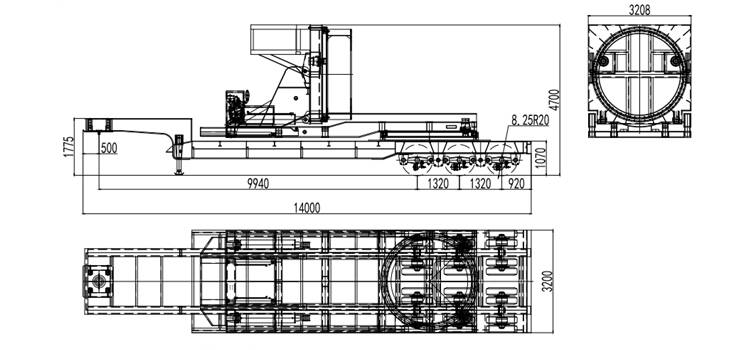 wind transport adaptor drawing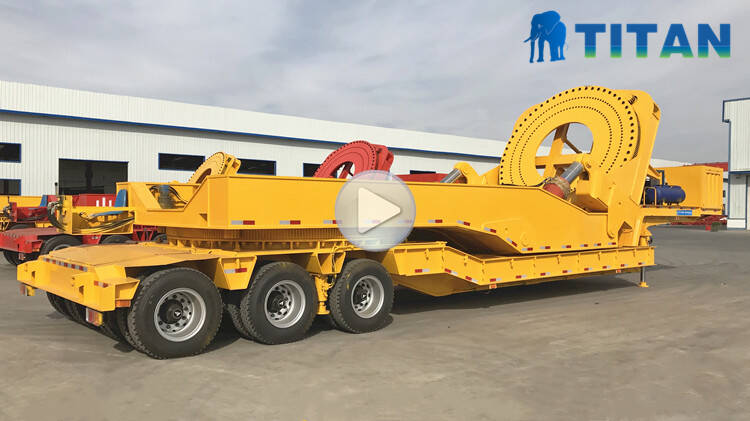 3 line 6 axle windmill carrier trailer detail video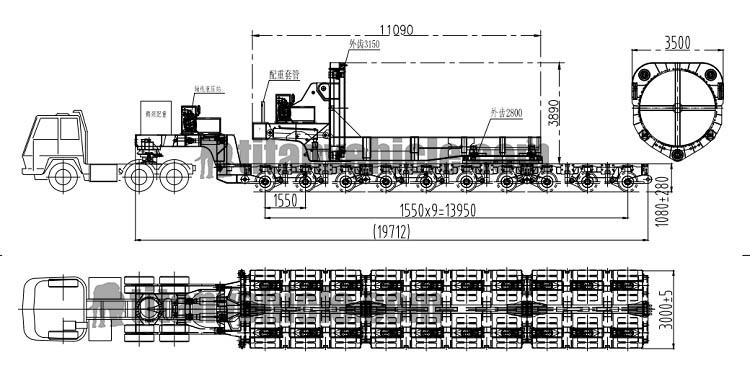 Modular Trailer with rotor blade adapter
Large modular trailer with rotor blade adapter, transporting 121-156 model blades, length 59.5-76 meters, the maximum transportation of wind turbine blades within 80 meters.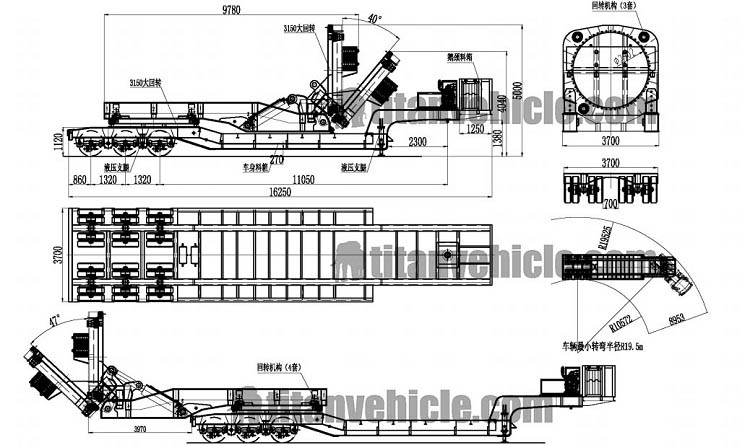 3 lines 6 axle wind tower trailer
3 lines 6 axle windmill blade transport, transporting large blades of model 121-156, length 59.5-76 meters, maximum 80 meters, weight within 13-23.5 tons, the center of gravity within 23.5 meters.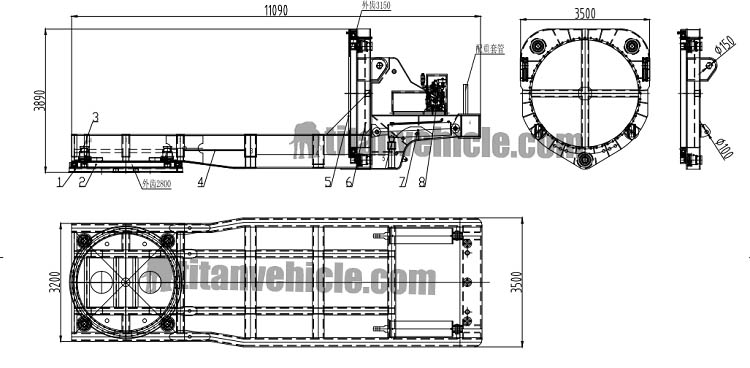 wind blade transportation drawing
The latest version of large hauling wind turbine blades, transport larger and heavier blades.transport 121-156 model blades.
Hydraulic gooseneck Blades wind turbine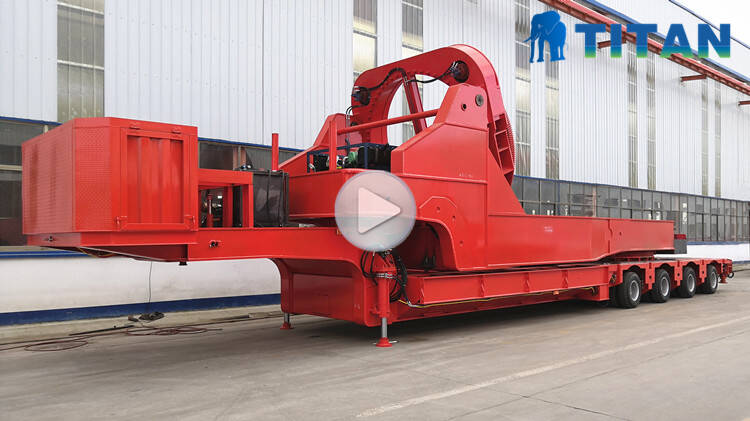 wind tower trailers for transportation of wind turbine blades details video
This large Blades wind turbine is very popular in Vietnam and other countries. transporting 121-155 model blades. This wind turbine blade transport is suitable for rugged mountain roads and sharp bends.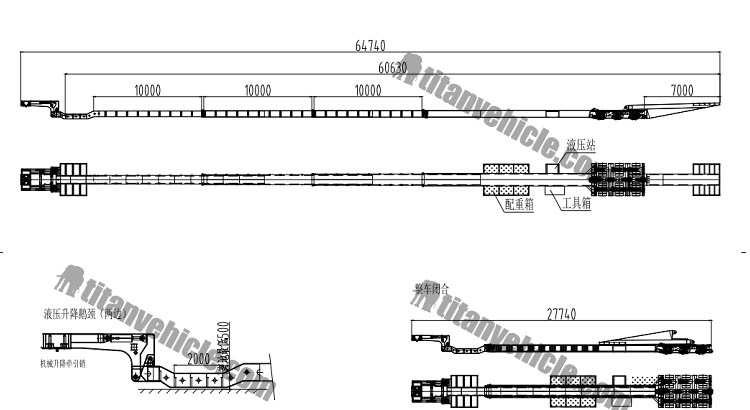 3 axle 60m Hydraulic windmill transport telescopic trailer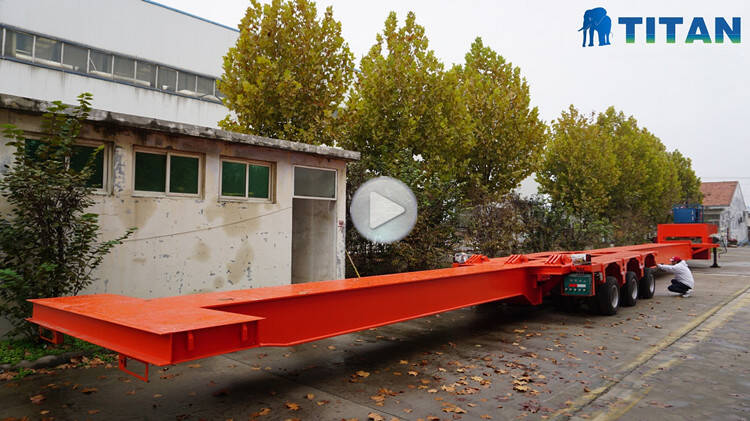 Single beam wind turbine blade trailer video
Offshore wind turbine blade transport trailer, suitable for long-distance transportation of offshore wind turbine blades between 76-90 meters, blade tonnage 25-45 tons, offshore blades are relatively high and heavier, requiring hydraulic axis structure, single beam drawing, rear flap structure, The vehicle needs to turn and lift, features: large turning angle, strong bearing capacity of the rear pivot, low cargo platform height.

6 axle telescopic trailer for windmill blade transport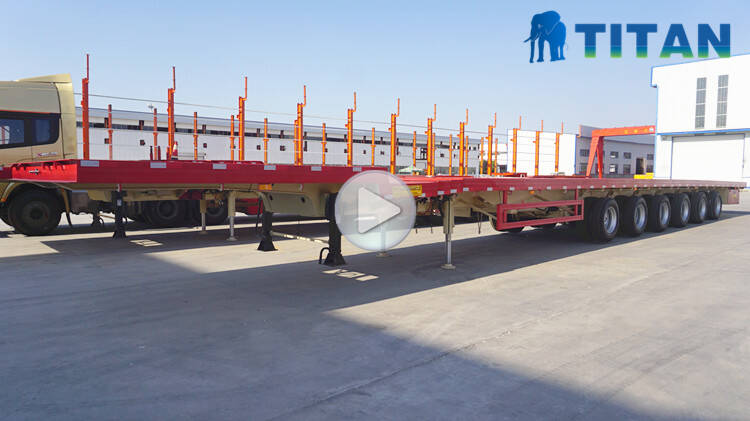 windmill carrier trailer details video
The telescopic trailer for mega windmill transporter could have three and four telescoping beams, and it could reach Max.62m length. the maximum can transport windmill blades within 80 meters.
2. Two types of wind turbine tower transport trailer:
(1) Ordinary extendable flatbed trailer
This transport method generally uses ordinary extendable flatbed trailer to transport wind blades. The characteristics of this extendable trailer for sale are that it can be extended and retracted to accommodate blades of different lengths.
These can be used to transport both wind blades and the tower. This is the kind of wind turbine transport vehicles that you need if you want to handle the different kinds of loads in your operations. Extendable flatbed trailer design and construction are meant to take care of these needs.
The tail platform forms the rear section of the extendable trailer for sale. mega windmill transporter can either be a folding or pulling platform configuration. Therefore, users can choose a telescopic trailer based on these tail platform configurations.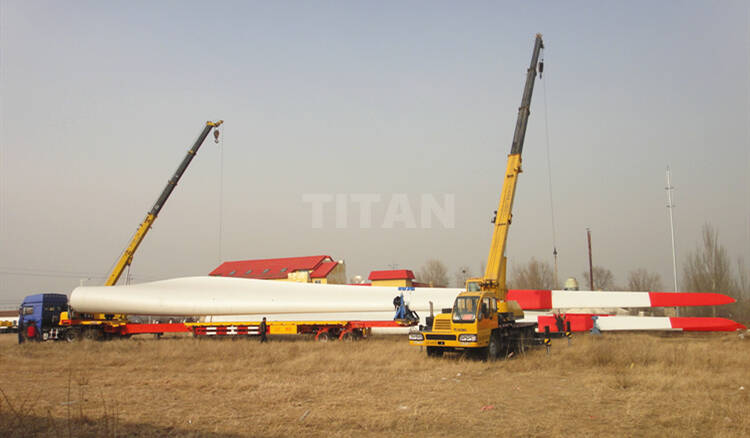 Blades wind turbine extendable trailer for sale
(2) Windmill blade transport trailer
This transportation method generally uses a special blade transportation wind turbine blade transportation with blade lifting-rotating-hydraulic rear wheel steering. The special wind turbine transport vehicles can lift the blades through hydraulic control and rotate itself 360 degrees during driving, avoiding various obstacles during transportation (mountain slopes, trees, houses, bridges, tunnels, etc.), which can greatly reduce the blades. The total length of the transport windmill trailer body can improve the curve passing performance.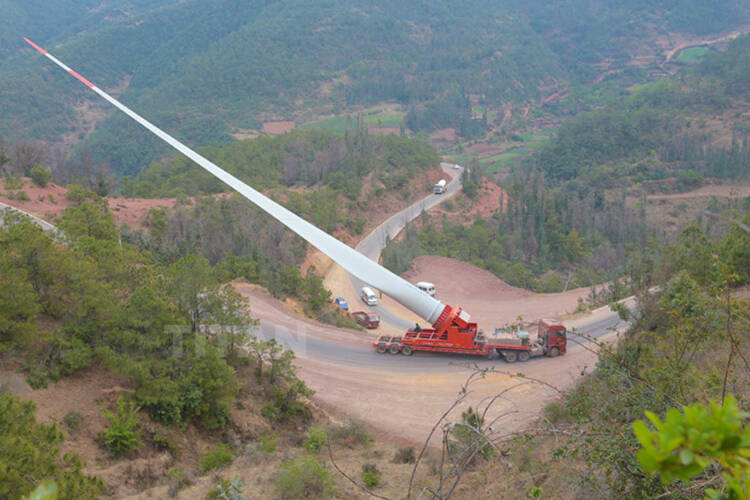 windmill trailer transportation of hauling wind turbine blades
3. Differences between wind blade adapter trailer and telescopic extendable trailers
(1) Advantages of turbine blade transport trailer
The blade rotates flexibly, and the transformation cost is small. The blade sweeping area of ​​the special wind blade adapter trailer blade lifting and transportation method is larger than that of an ordinary extendable trailer for sale. The blade sweeping area is large, and the area involved in the renovation project in the curve is reduced by about 10 times.
Blades can be transported by lifting, which can better avoid high mountains and cliffs, or house buildings, so about achieve rapid blade transportation. At the same time, this method can also reduce the cost of road reconstruction and house demolition, which can help improve blade transportation efficiency and engineering benefits.
(2) Disadvantages of wind blade adapter trailer
1. High transportation costs. The transportation cost of using special windmill blade trailer for sale is higher than that of ordinary flatbeds. For a wind farm with an installed capacity of 50MW, if it is transported by special windmill blade trailer for sale, the transportation cost will increase by about 3.5 million yuan.
2. There is a lot of work to clear the height limit. After the blade is lifted, the height is high, and the net height along the line is increased. Compared with ordinary flatbed transportation, it will increase the removal of height-limiting objects (such as cross-road cables, pipes, branches, etc.).
3. Need to increase weight. Since the blade's center of gravity increases after the blade is lifted, windmill blade trailer for sale is not conducive to stable transportation. It is necessary to place a weight on the front of the vehicle and avoid windy weather transportation.

wind blade transport adaptor VS telescopic extendable trailers
4. How are wind turbine blades transported?
Modern day wind farms are becoming major contributors to the world power supply, serving as proof of the interest and commitment to using alternative energy. But these farms couldn't be built without the equipment used to transport the turbine components from the manufacturer to the construction site. In the past, trailers used to mobilize the equipment on site lacked the safety, easy-of-use and the hauling capacity required of today's offerings.
Windmill blade trailer is among the most innovative and advanced trailers in China. The windmill blade tailer is a leading edge, innovative wind turbine blade trailer to satisfy all your wind energy transportation needs. With fewer mechanical connections from the fifth wheel to the steered axle, you can save on height, weight, and maintenance. With its customized steering functionality, you can drive forward and backward. Its automatic centering device, when active above a certain speed, offers you the stability of a fixed axle.

Adapter trailer for 80m blade transportation details
These type of wind blade trailer are used to transport turbine blades on mountain roads and curved roads as well. Because of the fact that extendable trailers are too long, when it comes to a mountain road, it is hard to steer hence the need for the special blade trailer. The design is made in such a way that the blade adaptor can lift up and down making it easier for the trailer to steer easily.
This ASM technology is a fully dedicated microprocessor-controlled, electronic over hydraulic steering system which uses a software program to actuate axle turns. Because mega windmill transporter can effortlessly and continuously drive around tight corners, it is ideal for transporting long and cumbersome windmill blades. As it turns, the truck sends a signal through the kingpin sensor, specifying the radius needed by the rear axles to curve around the corner – which allows for a tighter radius than traditionally made blade trailers. The wind blade trailer steering – independent of speed — gives you the optimal steering angle, in all types of circumstances. You can check the alarms and calibration through a display, via its PC application.
Wind Turbine Blade Transportation Extendable Trailer Videos
5. How to choose right windmill blade transport trailer?
Wind turbine blade trailer
In this design structure, the turbine blade is fixed on the adapter. What makes this trailer special is that the adaptor is customized for the blade. Although usually made from the best materials with sufficient yield strength, their custom design for taking blades may not make it a fit choice for other types of loads.
That means hauling wind turbine blades will unlikely be used for another function. It is the kind of wind blade trailer you need if all you want to do is transport wind turbine blades only.
Wind turbine trailers Advantage:
These types of blade carrier trailers are used to transport turbine blades on mountain roads and curved roads as well. Because of the fact that extendable trailers too long, when it comes to a mountain road, it is hard to steer hence the need for the special blade trailer.
The wind turbine trailers design is made in such a way that the blade adaptor can lift up and down making it easier for the blade carrier trailer to steer easily.

Wind Turbine Tower transportation of wind turbine blades
Wind blade transportation extendable trailer
The extendable beam feature is designed to allow for elongation to cater for different transportation needs. Due to the overall length of the extendable trailer needed in this section, tough and strong materials with a yield strength of at least 460 MPa is used. This makes sure that the beam doesn't sag during operations. In this section, the windmill trailer can be adjusted to the desired length to take up the task at hand.
The goose-neck provides a connecting point of the blade carrier trailer to the truck. It is designed to lift up and down to meet the different height of the 5th wheel of a truck. When the truck steers, goose-neck can pass the signal, and the trailer starts to steer. The steering system includes a steering function for the rear axles to help windmill trailer get through a curved road due to the 62 m length of the trailer.
Structure comprises of wind blade transportation:
A Gooseneck; A steering mechanism; An extendable beam; The tail platform.
There are three steering structure configurations namely: hydraulic bogies, turntable steering and axle steering.
Advantage of Telescopic Trailers:
Reliable and Efficient. Constructed of high yield strength material, telescopic trailers are reliable in terms of safety and general transportation needs.
It's easy to use. The trailer comes in a simple design that is easy to use and operate either hands-on or remotely. Loading and offloading cargo are made safe and simple for operators to manage the operations in an effortless manner.
It can transport other kinds of oversized cargoes, not only the blades and tower. Therefore, the user can put the trailer into many other uses other than for transporting wind turbine blades.
One notable advantage of this wind turbine trailers is that it is a better match for different sizes of the tower. Therefore, users are not limited to a specific type and size of the tower.

Details of windmill blade trailer for sale
Wind farm transport and windmill tower carrier trailer, just like for any other type of wind turbine blade trailer must be thoroughly scrutinized before making the final buy decision. After identifying your needs, you should be able to know the kind of trailer you are looking for. However, that is not all that you will always need.
There are some other aspects to look into including the trailer quality, delivery times, ability to customize and its reliability among others. Need more details of extendable trailer, you can contact us.
In the actual process of transportation of wind turbine blades, it is necessary to choose a suitable windmill blade tailer method according to the transportation route and the surrounding environment, comprehensively considering the transportation cost and the road transportation condition transformation cost.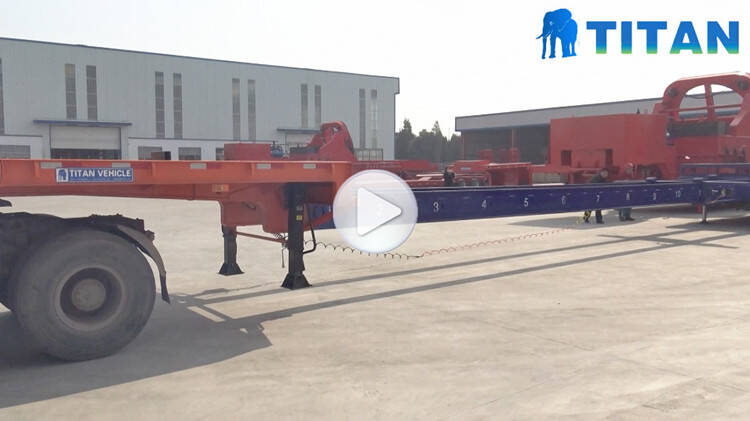 56 meters wind blade trailer testing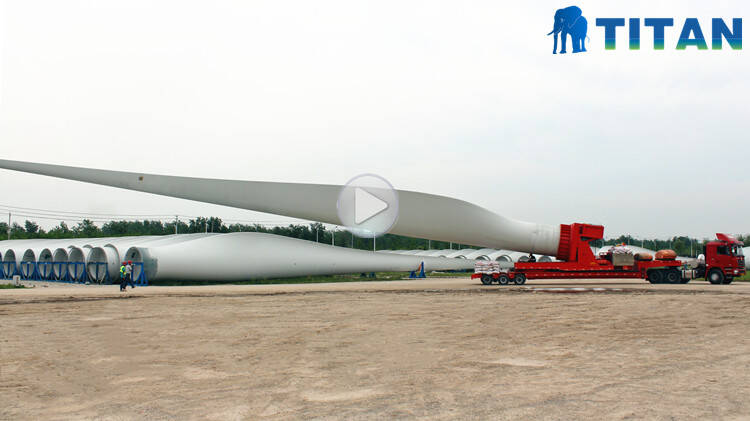 Application of wind turbine blade adapter trailer
Welcome to leave your inquiry!
We will meet the acme of perfection to serve and provide more details, price, catalog, drawing, videos for you!